---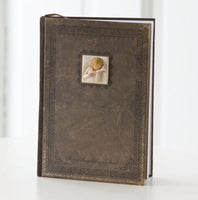 Thinking of You Journal
In my thoughts, in my heart
Inspired by old, classic books much handled and loved… Willow Tree® Journals are rich dyed and embossed surfaces with the look of aged leather. Glints of gold leaf edging. Softly understated sentiments on the cover. Inlaid carvings with much-loved Willow Tree® gestures. "I hope those of you who enjoy writing your thoughts and memories – or just keeping track of daily errands – find this journal unique, functional, and beautiful to use." –Susan Lordi
Journals are treasures, providing writers with a palette for quiet reflection. Or just a beautiful surface for daily task lists!
DETAILS
.8.5"h x 6"w. 152 lightly lined 60% recycled text-weight pages with hard-cover binding. Resin bas-relief carving affixed to front of journal cover
.Packaged in Willow Tree box
OUR STORY 
Willow Tree sculptural art forms beautifully express love, closeness, healing, courage, hope… all the emotions of a life well lived. Artist Susan Lordi hand carves the original of each figure from her studio in Kansas City Missouri. Pieces are cast from her original carvings, and individually painted by hand. Expression is revealed through gestures only… a tilt of the head, placement of the hands, a turn of the body. The simplicity of form and absence of facial features signify Willow Tree. It is Susan's hope that these pieces be meaningful to both giver and receiver.
ARTIST 
Susan Lordi's artistic process is rather intuitive; she "sketches" in clay as she conceives, sculpts and carves each piece, always with a focus on gesture that speaks to the universal. By stripping down the essence of emotion to pure form, she opens the interpretation of each piece to the giver and the receiver. This one-of-a-kind approach to product creation makes her pieces truly individual... her hand, and her unique perspective, is evident in each sculpture.